Contractors Insurance in Wauseon, OH
Whether you pull the electrical wires throughout the building, install HVAC equipment and runs, or connect up the water in a residential or commercial building in Wauseon, OH, it is important that your contracting business have the right insurance in place. Beck Insurance Agency can help you get the right contractors insurance in place so that you can do your job confidently and not worry about an accident happening. There are many pieces to the full contractors insurance coverage, and our team can help to explain each part and how it applies to your business. Contact us today to learn more and ensure you have the right coverage for your contracting business.
Commercial Insurance for Contracting Businesses in Wauseon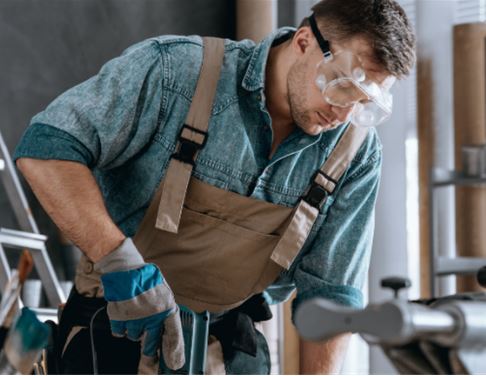 Contractors insurance is typically a package of different insurance policies that cover a range of different potential situations. It is important that you discuss your unique needs with one of our agents so that you can have the right coverage for your needs and not have anything extra. Most contractors insurance plans start with a general liability policy and an inland marine insurance policy. These policies help to protect against property damage that you accidentally cause, as well as protection for the business property that you are storing or transporting between job sites.
If you have employees on your team then your contractors insurance should also include workers' compensation insurance. This helps to protect you and your employees from injury or illness that happens on the job. You likely also have a work vehicle to transport equipment, tools, and more to and from the job site, so a commercial auto insurance policy will also be part of your contractors insurance.
General Contractors Insurance in Wauseon, Ohio
The simple fact is that when you are engaged in a building project, you will likely not get very far if you aren't insured with things like general liability insurance and other protections. This is because the project owner doesn't want to take chances on having the project derailed or things coming back on them. Showing that you have proof of insurance will allow you to be able to bid successfully on projects and get work for you and your crew.
Wauseon, OH is just the sort of town that our team at Beck Insurance Agency works with on a daily basis. Wauseon was platted 1853 when the Michigan Southern Air Railway was extended to that point. The original name for the city was "Litchfield" after Litchfield, New York, where many of the city's new settlers had emigrated from. However, Hortensia Hayes, the daughter of an early settler, suggested that the new village be named after an Ottawa Tribe Chief named Wauseon, who was forced by the federal government to forfeit their land, before moving to Oklahoma in 1839. Reach out to us today to review your contractors insurance to make sure its protecting you in all areas you need.