Truck Insurance for Toledo, Waterville, Wauseon, Whitehouse, Maumee, Perrysburg, Bryan, Delta, Sylvania, Defiance, OH, and All of the Surrounding Areas
Truckers live their busy lives on the go. With their demanding job putting them on the road for hours at a time, truckers face a variety of risks that other professionals do not. The last thing that truckers should have to worry about on the road is their commercial trucking insurance coverage.
We have been working with truckers in Toledo, Waterville, Wasson, White House, Maumee, Perrysburg, and surrounding areas procure the proper trucking insurance and other business insurance to fit their personalized and professional needs. With a reputation for exemplary customer service and a true passion for what we do, at Beck Insurance Agency we provide you with the trucker's insurance that you need no matter where you go on the job.
Truck Insurance: What Risks Do Truckers Face?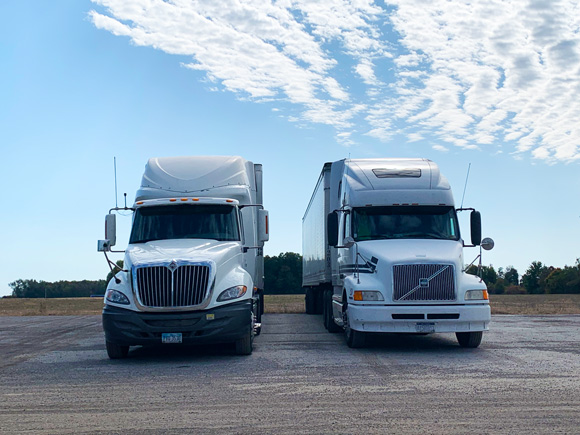 Being on the road already comes with many risks, but being on the road for extended periods of time for work comes with heightened risk by default. But if you add an extra-large vehicle and heavy cargo the risk factors are through the roof.
At Beck Insurance Agency we help truckers procure the proper trucking insurance that they need to keep them guarded against the many risks that they face on the road such as:
Everyday drivers on the road
Driving conditions
Falls and slips
Insufficient qualifications and training
Physical injuries on the job
Proper filings, certificates of insurance, pre-inspection, and other loss control methods
Through a comprehensive assessment of your specific business and risks, our agents help you mitigate those risks by arming you with the right trucking insurance to keep you safe.
Our carriers will help you review and implement loss control measures to keep or improve your DOT and CAB scores high. They will provide you the tools to keep losses under control and eliminate or reduce out of service violations.
Proper Trucking Insurance Coverage
Commercial truck insurance is required for small business owners and operators of businesses that offer trucking services. Depending on the size of the truck, cargo, and the risks and experience of the driver, trucking insurance varies from company to company in person to person.
Our insurance agents at Beck Insurance Agency work with you to assess your specific commercial trucking insurance needs. By getting to know you and the ins-and-outs of your business, we work diligently to provide you with the full trucking insurance coverage that will keep you protected from all angles. Common forms of trucking insurance coverage include:
General Liability Coverage
Primary Auto Insurance
Non Trucking Liability
Non-Owned Trailer Liability and Physical Damages
Cargo Insurance
Warehouse Legal Coverage
Damages, and more!
Chat with us today to learn more about your trucking insurance coverage needs. Our agents won't stop until you are protected with the trucking insurance that you need to feel safe at work and protected no matter where you go. It's our honor to provide you with quality coverage at affordable rates.