Medicare Supplements and Health Insurance for Maumee OH, Monclova, Montpelier, Napoleon, Perrysburg, Swanton, Sylvania, Toledo, Waterville, Wauseon, Whitehouse, and Surrounding Ohio Areas
Products designed to meet the needs of our senior clients
Covering the gap
Beck Insurance Agency provides a host of products designed with our senior clients in mind.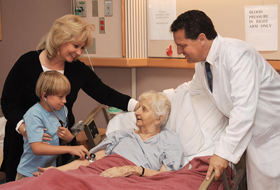 We understand the special needs of those in the 'golden years' of life and our products provide the peace of mind and support that so many elderly need.
Prescription Drug Coverage helps relieve the high cost of pharmaceuticals and offers an affordable solution that is especially beneficial to those who require a full-time regiment of prescription medications.
Medicare Supplements cover the coverage 'gaps' left by Medicare.  The professionals at Beck Insurance Agency can help you choose a standardized plan that covers costs that are most pertinent to you.
Long Term Care (LTC) Insurance provides additional coverage for those who need the full-time care and oversight of a skilled nursing facility, such as a nursing home or independent living community.  Please remember that Medicare has specific limitations and co-pay requirements for long-term care, so LTC coverage is an excellent way to underwrite these future living expenses.
CLICK HERE FOR YOUR FREE NO-OBLIGATION QUOTE!