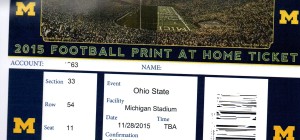 With the generous help of Safeco Insurance Company, Beck Insurance Agency has organized a drawing for a pair of free tickets to the Ohio State vs Michigan game on November 28 in Ann Arbor, Michigan.
We will be selling a maximum of 350 tickets at only $15 each. 100% of the money will be split evenly between Sara's Garden in Wauseon, and the Barton Twins – who were born premature at only 25 weeks gestation.  For more details please click on their names above.
Tickets can be purchased at Beck Insurance Agency, 120 N. Defiance Street, Archbold, Ohio 43502, Sara's Garden, 620 West Leggett, Wauseon, Ohio 43567, or Joe Beck's home at 10942 Springbrook Court, Whitehouse, Ohio 43571.
Any questions please call Beck Insurance 419-446-2777 or Joe's cell 419-572-9673.
Thank you very much!
Regards,
Joe Beck