Who is Beck Insurance Agency in Downtown Whitehouse?
Now in our 75th year of business, Beck Insurance Agency is a full-service independent insurance agency serving northwest Ohio, as well as six other states in the US.
Family owned & operated (and now in our third generation) Beck Insurance Agency takes a total account approach to not only the largest of commercial clients, but with also the smallest of personal insurance and households.
Our primary goal is to identify your actual insurance needs and create a plan that meets those needs at the fairest cost amongst our network of insurance companies.
Too often, insurance agents simply quote what you have now and hope they have the cheapest price.  That is a proven recipe for uncovered claims, insufficient coverage, hurt feelings, and a transactional relationship instead of a relationship consisting of trust and councel.
We want to get to you know you, what your needs are (and are not), and provide to you with correct coverages, options, excellent service, and build a long-term relationship.  This approach builds trust, lasting relationships, and a less exposed client.
What does it mean to be an "independent" insurance agency?
Being an independent insurance agency means that our agency is separate from the insurance companies that we place business with.  An independent insurance agency is able to contract with a number of different insurance companies.  This means that we are not beholden to the whims of any one insurance company. 
Independence results in more carrier options with less hassle, often lower premiums, impartial advice, the ability to move you to another carrier in house, greater leverage, and higher likelihood of carrier fit.   
Conversely, a captive insurance agency is only contracted with one insurance company.  These are often very brand heavy, thus the most recognizable – but only provide one option for your insurance coverage, whether it's an appropriate fit for you or not.
Locations
Despite writing insurance in seven states, Beck Insurance Agency only has two physical offices.  The "main" office is located in the center of Downtown Archbold, Ohio at the main intersection of Route 66 and State Route 2.  The newest branch, opened in the fall of 2021, is located in downtown Whitehouse, Ohio at 6776 Providence Street.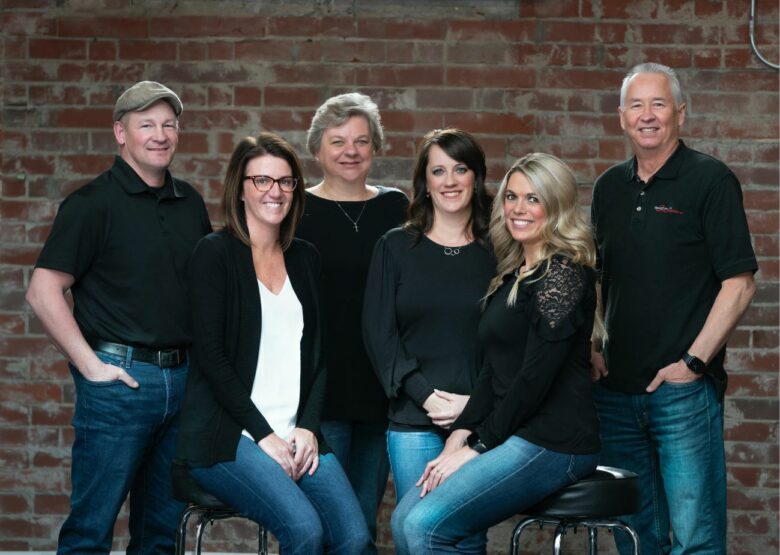 Joseph Beck, Lindsey Gigax, Sharon Barton, Lori Good, Kylie Schultz, Conrad Beck (not pictured is Kalyn Nofziger)
So why Whitehouse?  Why now?
"My wife, kids and I moved to Whitehouse in early 2008.  It didn't take long before we recognized how great the entire Anthony Wayne community is.  Almost immediately, I envisioned having another office here.  But with a young family, busy home lives, sports, and the like – the timing just wasn't there.  Fast forward to 2021 – the kids are older, two other independent agencies had since left town, our agency was now mostly paperless, the staff was in place.  If we were ever going to open a branch in Whitehouse – the time was now."  Joe Beck, President
Agency Personnel Typically at the Whitehouse office.
While it can change from time to time due to illness or vacations, you will usually find one of three licensed producers each day.  Just keep in mind that regardless of who is there on any given day, we can service and sell all lines of business five days a week.
Kylie Schultz is on site on Mondays and Tuesdays.  Kylie's expertise is personal Homeowners, Autos, Umbrella, Recreational Vehicles, Life Insurance, and Farms. 
Joe Beck, President, is usually in Whitehouse on Wednesdays and Thursdays.  Joe focuses mostly on Commercial Insurance, Life Insurance, and Long-Term Care.
Lori Good is in-house on Fridays.  Lori is an expert in Senior Products.  This includes Medicare Supplements, Advantage Plans, Prescription Drug Plans, and Long-Term Care.
Again, regardless of who is at the Whitehouse office on any given day, our staff is able to assist you with whatever your needs are.
Contact Beck Insurance Agency in Archbold or Whitehouse today.  Each office is open Monday through Friday, 8 am to 4 pm.  Evenings and weekends by appointment. 
Interested in quotes or a coverage review? 

Call Whitehouse at 567-406-3006, or call Archbold at 419-446-2777.  You can also send an email to help@beckinsurance.com, or click here to submit your request.