What are the CD interest rates today?
According to bankrate.com, the best CD rate for March 2022 would be on a 5 year CD through Credit One Bank. That rate according to their website is 1.25%.
Janet, a 65 year old health female is considering CD's for approximately $100,000 she has put away for her grandkids someday. What would be a better option for her money than a CD?
If Janet doesn't need this money liquid, she would be better off instead placing this money in a Single Premium Whole Life policy.
A $100,000 single premium whole life policy for Janet would get her a death benefit of $178,694 that she can leave to her beneficiaries some day, tax free. See below.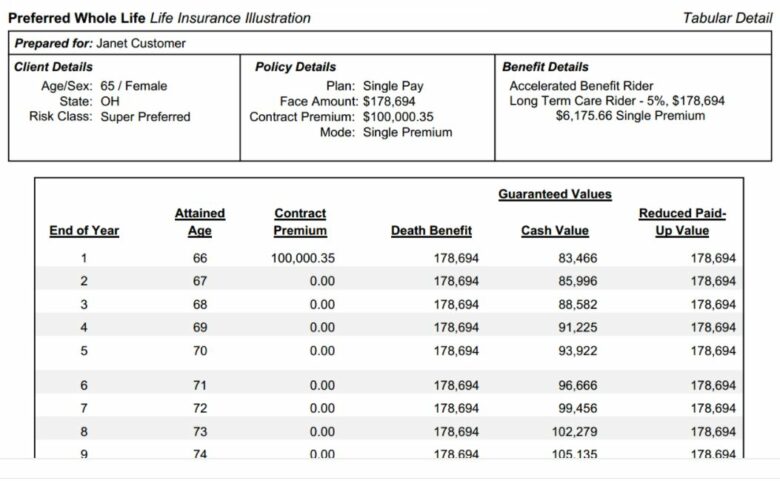 To compare, if Janet were instead to place that $100,000 into the current highest yielding CD, and IF she was able to leave those funds in that CD for as long as she wanted – it would take 47 years at 1.25% interest before the balance would reach the same $178,694 that the Whole Life option yielded day 1. Which means, Janet would have to live to age 112 for it to work out the same! See below.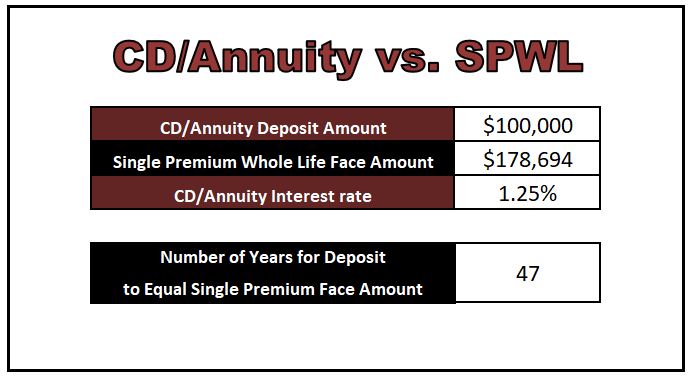 Additionally, the Single Premium Whole Life illustration above also includes a long term care insurance rider. This rider would allow the insured to use up to 5% of the original death benefit on a monthly basis to cover the cost of long term care.
To learn more about these products and how they can better help you achieve your goals please call Beck Insurance Agency at 419-446-2777, email us at help@beckinsurance.com, click here and submit a request, or stop by one of our two offices located in both Archbold and Whitehouse, Ohio.
Beck Insurance Agency is a full service, independent insurance agency offering personal insurance such as home, auto, umbrella, recreational vehicles, life insurance, Medicare insurance, long term care insurance, business insurance, farm, as well as insurance for public entities.