I have a CD coming up for renewal, what are the current CD interest rates?
My question would be, if you are healthy – why would you want to renew a CD? Bare with me…
I hate to generalize, but most clients I find that are drawn to CD's are those who are over the age of 55, who prefer the safety and security of CD's over market-driven assets, and quite often the money they have sitting in CD's I would consider "never money". Meaning, they never intend to spend or live off this cash, but rather they are setting it aside in hopes of leaving it as a gift to loved ones.
If that's the case, and if you are reasonably healthy – there is a much better option.
Let's take a 60 year old female in good health. She has $100,000 in cash she would like to store away to be passed down to kids, grandkids, her church, and/or favorite charitable organization.
A quick Google search here finds that according to Nerd Wallet, the best interest rate on a 5 year CD would be through TIAA Bank at a whopping 0.80%.
If she instead took that $100,000 and put it into a Single Premium Whole Life policy, she would transform that $100,000 into a tax-free death benefit of approximately $235,990 on day 1.
Some quick math in the illustration below shows that in order to have that same $100,000 grow to $235,990 through this "best CD option per Nerd Wallet", it would take…….108 years to do so. One hundred and eight years. 1-8-0. That's just crazy.
If you have a CD you are looking to renew, or if you are currently shopping for the best CD interest rates, please give us a call first at Beck Insurance Agency. Our number is 419-446-2777, you can email me directly at joe@beckinsurance.com, or submit an inquiry here.
Joseph D. Beck, CIC, CPRM, President / Beck Insurance Agency, Inc.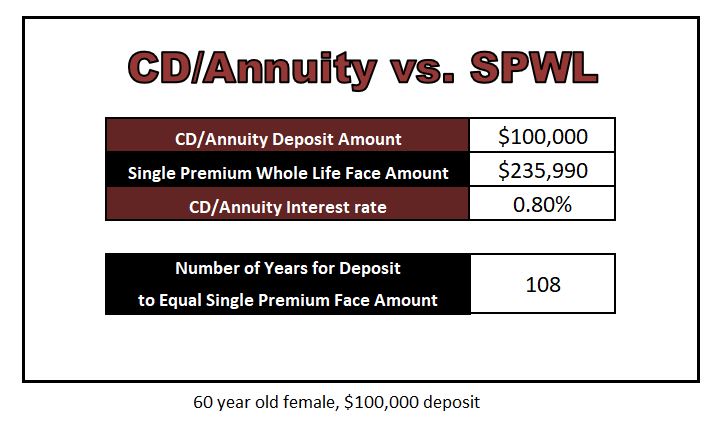 Contact Beck Insurance Agency at 419-446-2777
Life Insurance & More
Learn more about options for life insurance, including whole life, universal life, long-term care insurance, and more in Toledo, Waterville, Wauseon, Whitehouse, Maumee, Perrysburg, Ohio, and the surrounding areas.