What's new in Trucking and Trucking Insurance
An electronic logging device, a driver security system and a new driver wellness app were among a series of brief trucking product and service announcements Saturday ahead of the official start of the American Trucking Associations' annual Management Conference and Exhibition at the Orange County Convention Center.
Electronic Logging Devices (Required by Dec. 18, 2017)
Pedigree Technologies introduced a third electronic logging device for its Chrome Solution product line, known as Cab-Mate One. The plug-and-play device takes 10-minutes or less to install, according to the company, and is built on the company's propriety Chrome Solution platform. It is targeted toward both large and small fleets.
The two other ELDs in the product line are Cab-Mate Open and Cab Mate Connect.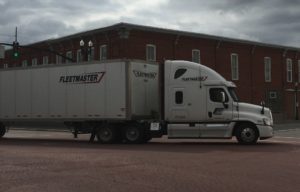 Driver wellness app
On the technology/driver health side, Rolling Strong, a provider of driver wellness programs for transportation companies and their drivers, as well as owner-operators, announced a new mobile app that enables commercial drivers to focus on making healthy lifestyle choices on the road.
Rolling Strong's new driver wellness app
"The subject of the health and wellness of truck drivers is always being discussed but until now no one has truly come up with a solution that is readily available and fun to use," said Steve Kane, president of Rolling Strong. "Our new mobile app is designed to help drivers take control of their health, encourage them to adopt healthy lifestyle habits and connect with other health minded drivers for support. It is also designed so fleets can support drivers in their health and wellness efforts."
The app is available in both iOS and Android formats.
Driver personal safety system
Another service of benefit to both drivers and fleets was also introduced by SafeKey Corp. The provider of professional driver and cargo safety systems, introduced SafeKey Protector, its new driver personal safety system.
It features around-the-clock public safety agency response to driver security, medical and safety emergencies with just the push of a button on a special device that's about the size of a key fob.
"Fleet and operations managers know they are taking a proactive step to help protect their drivers from some of the known and unknown security and safety issues their drivers may encounter every day," said Tom Richardson, business development manager for SafeKey. "Our technology also improves recruitment of and retention of professional drivers while helping prevent cargo theft."
Expanded insurance
Acuity Insurance continues to write motor carriers and has recently added the state of Texas.
The Wisconsin-based provider that operates in 26 states said it writes a wide array of coverages for trucking including commercial auto, cargo, workers compensation, general liability and more, in addition to more than two dozen insurance enhancement endorsements. Their services also include the Motor Carrier Toolbox, designed to assist fleets in the areas of human resources, safety, compliance, maintenance and driver training.
"Acuity's Motor Carrier Toolbox simplifies the process of compliance by helping motor carriers understand requirements they face and offering tools needed to assist in meeting those requirements," said Cliff Johnson, trucking specialist at Acuity.
Credit to Evan Lockridge, Truckininfo.com, October 21, 2017 http://www.truckinginfo.com/channel/fleet-management/news/story/2017/10/eld-driver-safety-wellness-among-ata-announcements.aspx
Contact Beck Insurance to see what we can offer for your trucking insurance and to learn more about Acuity's Motor Carrier Toolbox.