Acuity Insurance Company has partnered with the Central Analysis Bureau (CAB) to provide trucking customers with resources and tools to help them run a safe, profitable operation.

Acuity trucking customers can now directly access their FMCSA motor carrier data in a user-friendly CAB dashboard that includes many helpful tools and reports also used by insurers and industry professionals. The product can help motor carriers improve their operations by consolidating fleet safety information in one central location for easy access to clear graphs and visuals of CSA data like the one below.

Available tools include the MC dashboard, CAB report, and BASIC calculator, which can be used to review where extra focus may be needed and to take corrective action. Customizable alerts allow users to monitor changes to BASIC scores, crashes, inspections, ISS scores, and DOT safety ratings.

Existing Acuity Insurance customers can sign up by visiting www.theMCadvantage.com/Acuity.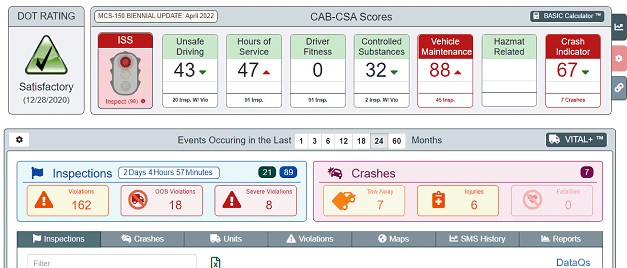 To learn more about trucking resources offered by Acuity Insurance Company visit their Trucking Insurance Web Page.
For more information or quotes on Trucking Insurance please call Beck Insurance Agency at 419-446-2777, email us at help@beckinsurance.com, or click here.
Beck Insurance Agency serves the Trucking Insurance needs of clients in Whitehouse, Waterville, Monclova, Toledo, Maumee, Archbold, Napoleon, Delta, Wauseon, Bryan, Montpelier, Defiance, and surrounding areas.