Here are 7 ways to turn roadside inspections into a positive experience:

1. Understand roadside inspections and CSA scores

Compliance, Safety, Accountability (CSA) is the safety compliance and enforcement program of the Federal Motor Carrier Safety Administration (FMCSA) that holds motor carriers and drivers accountable for their role in safety. CSA affects motor carriers, including owner-operators, by identifying those with safety problems to prioritize them for interventions such as warning letters and investigations. CSA affects drivers because their safety performance and compliance impact their safety records and, while working for a carrier, will impact their carrier's safety record.

Your company's safety data appears online in FMCSA's Safety Measurement System (SMS). FMCSA updates the SMS once a month with data from roadside inspections, including driver and vehicle violations, crash reports from the last two years, and investigation results. The SMS considers:

The number of safety violations and inspections

The severity of safety violations or crashes

When the safety violations occurred, with recent events weighted more heavily

The number of trucks a carrier operates and the number of vehicle miles traveled

Acute and critical violations found during investigations

FMCSA organizes SMS data into seven Behavior Analysis and Safety Improvement Categories (BASICs): unsafe driving, crash indicator, hours-of-service compliance, vehicle maintenance, controlled substance/alcohol, hazardous materials compliance, and driver fitness.

The CSA database includes only violations that occurred while drivers were operating commercial vehicles. If you are driving under a carrier's DOT number, your violations will be assigned to that carrier.

Inspections, whether the result of a typical roadside inspection or the result of a crash, are bound to make some drivers and fleet managers a little nervous. Often, inspections can seem like a nuisance, and drivers and motor carriers may even feel like they are being targeted.
2. Develop a process to make sure your documentation is ready for inspection
Registration, annual vehicle inspections, insurance, driver licenses, medical cards, and other documentation must be maintained and valid. If special circumstances are being used, such as leased vehicles, make sure your drivers understand the circumstances and are prepared to explain them to the enforcement officer. Simply put, if the enforcement officer cannot understand what is going on, they are far more likely to write a citation.
3. Become inspection ready
One of the easiest but often overlooked items is training mechanics and drivers on how to perform a proper driver vehicle inspection report (DVIR). I have visited numerous motor carriers that were adamant their equipment was in good mechanical condition, and they had no idea why they were getting picked on by the DOT. However, upon our mutual inspection, we discovered very worn brake linings, defective or missing lights, bad tires, and even brake hardware kits hanging out of a wheel—all of which were easily visible. A good training guide for proper inspections is the Commercial Vehicle Safety Alliance (CVSA) handbook.
The North American Standard Inspection Level 1 will prepare you for most of the other levels of inspection, which are discussed here: https://cvsa.org/inspections/inspections/all-inspection-levels/.
In high-risk, no-failure-allowed operations, many managers use the phrase "What is audited, gets done." In these cases, a small percentage of the fleet may have a visible tag or ribbon placed on areas such as the oil dipstick, slack adjuster, glad-hand, or wheel stud. When found by the driver during their inspection, the driver receives positive reinforcement. If not found, the manager knows the vehicle is not being properly inspected and an opportunity for coaching or training the driver exists.
Word of warning: When a troubled fleet begins enforcing DVIRs, this process may be new to both drivers and mechanics. As a result, it is important that a functional process of intake exists, where the maintenance shop can intake and repair identified safety defects prior to releasing them back into service. If this step is missed, frustration may occur and drivers may start pencil whipping the DVIRs.
4. Maintain hours-of-service (HOS) rules
Whether using an ELD, air mile, or other exemption, make sure your driver is trained and prepared to provide current records of duty, discuss the method being used, and answer HOS questions during a roadside stop.
5. Compliance with traffic regulations
I have noticed it is common to see a truck pulled over for speeding, where the driver receives a warning and the truck is inspected. Train your drivers to avoid bringing attention to their driving by not exceeding posted speeds, obeying traffic signs, wearing seat belts, and avoiding distracted driving.
6. Empower your employees
Empower your employees—what are you talking about, Cliff? I often hear that drivers who have a few years of driving experience for someone else were not trained. Regardless of experience, training is crucial in successful onboarding of a new driver. Remember, we discussed being your own harshest critic. If your drivers are not trained or empowered to be successful for themselves within your company, then it is doubtful they can be successful for your company either.
7. Setting goals toward improvement
You can obtain your score at the USDOT website csa.fmcsa.dot.gov. When you enter your USDOT number and PIN into the SMS login page, you will be able to locate your score. If you don't have a PIN, you can request one from USDOT.
I usually recommend posting your company's scores. For example, if your company's unsafe driving or vehicle maintenance is hovering around 80, set a goal for 50 and make and execute a plan to reach that goal. Remember, successful plans often include training employees and auditing to determine if you are achieving the results you want for your company.
By Cliff J., Acuity Insurance.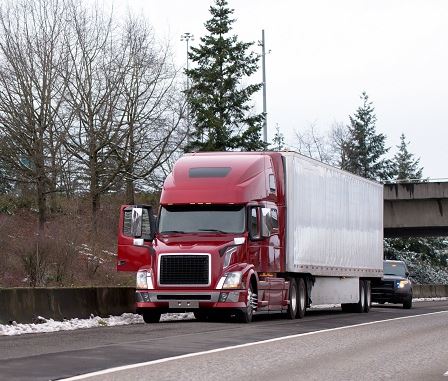 For Trucking Insurance quotes and more in Archbold, Toledo, Wauseon, Defiance, Napoleon, Delta, Swanton, Liberty Center, Maumee, Whitehouse, Waterville, and surrounding areas call Beck Insurance Agency at 419-446-2777, email us at help@beckinsurance.com, or click here to submit your request.