Texting and driving has become an epidemic in the United States. According to the National Highway Traffic Safety Administration, distracted driving claimed 3,477 lives in 2015 alone.  This number has only climbed year after year.
Recent statistics now indicate that 1 out of 4 accidents are a direct result of texting and driving.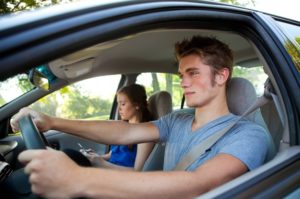 In addition to the obvious safety issues and dangers, insurance carriers are seeing a significant impact of cell phone use while driving – both in frequency and severity on auto insurance claims.  This widespread cell phone use while driving (combined with sustained lower gas prices) are now causing Auto Insurance premiums to rise in reaction in order to maintain acceptable combined loss ratios moving forward.
Beck Insurance Agency has experienced first hand the impact of texting and driving, having had one of our carriers recently paying a settlement of nearly $1.2M for an accident caused by texting and driving for a client.
While the solution is obvious, the implementation is not quite as easy.  Parents can't always police their teenage drivers, employers can't always police their drivers and / or employees.
Maybe until now??  Recently reading a Truck Insurance article by Acuity Insurance I learned of a new (free) cell phone app called "LifeSaver".  While I have not personally yet used the app, (and this is not an endorsement or an official recommendation) I do feel that it is certainly worth looking into if you 1) have loved ones, 2) have a hard time putting the phone down yourself, or 3) own a company that requires employees to drive.  I will be personally checking it out.
If you wish to give it a try, there is the LINK to their website.  If you do try it, please contact us HERE and let us know what your experience was and if you liked or disliked the app. 
You can also call us at 419-446-2777, or email me directly at joe@beckinsurance.com
Thank you and be safe…..
Joseph D. Beck, VP, CIC