Recently, I saw this photo being shared around on Facebook and at first I thought it was a joke. But because many employers are having severe staffing issues I decided to look into it a little further- just to be sure.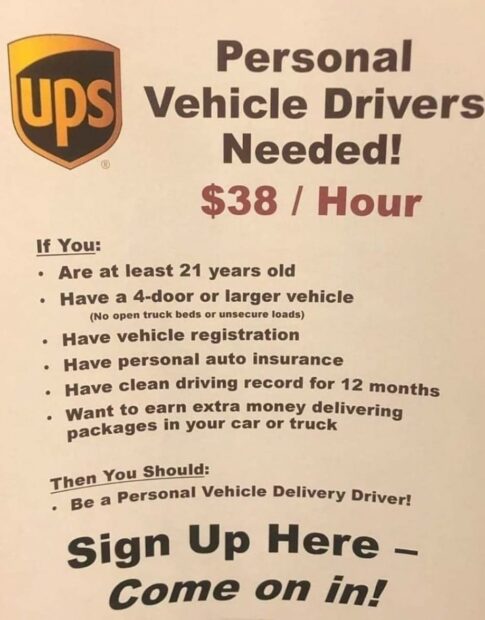 A quick google search immediately pulled up this web page.
YOU NEED TO KNOW that your PERSONAL AUTO INSURANCE policy EXCLUDES coverage while delivering goods (or people) for hire. Period. Now, I don't want to make assumptions about this or any other employers promoting this type of activity, but the fact that "personal auto insurance" is a requirement gives the impression that this may be the only coverage you are leaning on. If that is the case, and if the employer is not providing you with auto coverage under their policy, then YOU would have zero coverage while delivering – in this case, packages. The employer however, would be covered under their own commercial hired and non-owned auto liability.
IF THAT IS THE CASE, the employer would be protected, but YOU would be risking your LIFE SAVINGS to make deliveries at $38 an hour. Again, I am not saying this is the case with this particular employer, but I have confirmed this to be exactly the same case with some others by way of actual declined claims. (Can you say, "pizza delivery"?)
Before taking on any such activity please, please call your insurance agent to discuss. Or ask that the employer provide you with a certificate of insurance showing auto liability, hired and non owned auto physical damage coverage, and have named you as an additional insured / loss payee. (good luck with that request)
This dangerous madness has to stop.
Joseph D. Beck, CIC, CPRM, President / Beck Insurance Agency, Inc. For more information or questions please call 419-446-2777, email me at joe@beckinsurance.com, or click here with your inquiry.