Though your team does a good job managing your operations and you're proud of your safety performance, you still ended up with a Conditional or Unsatisfactory rating. In other words, the FMCSA auditor has determined that your company failed to have "adequate safety management controls in place to ensure compliance with the safety fitness standard."
We all understand why a Satisfactory safety rating is important to motor carriers. Negative ratings can bring many repercussions—your fleet is scrutinized on roadways, customers may have concerns about you hauling their goods, there can be a reluctance to pass on available rate increases offered to better-rated carriers, you may get questions from your insurance company's underwriters and loss control people, and it can be difficult to attract quality drivers. The best drivers tend to align themselves with well-managed carriers who are not being scrutinized by enforcement officers.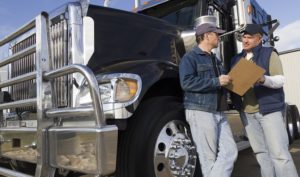 One of the interesting things I notice when visiting motor carriers—especially with smaller, well-managed trucking companies that have been in business for many years and have not had large safety issues—is that they can be unaware of how FMCSA's Compliance, Safety, Accountability (CSA) program works and how it can drastically affect their company. CSA's Safety Management System (SMS) uses a motor carrier's data from roadside inspections, crash reports, and investigations to calculate performance in the 7 Behavioral Analysis Safety Improvement Categories (BASICs): unsafe driving, hours-of-service compliance, driver fitness, controlled substances and alcohol, vehicle maintenance, hazardous materials compliance, and crash indicator. Based on BASIC CSA scores, FMCSA determines what interventions are taken against a carrier.
Following a compliance review, one of three safety ratings is issued—Satisfactory, Conditional, or Unsatisfactory—based on the following categories:
1.Documented, adequate safety management controls.
2.Frequency and severity of regulatory violations received by motor carrier.
3.Frequency and severity of driver and vehicle regulatory violations.
4.Frequency and severity of out-of-service driver and vehicle violations.
5.A pattern demonstrating an increase or decrease in similar types of regulatory violations.
6.Frequency of crashes and incident rate are indicators of preventable incidents, whether they are increasing or decreasing.
7.Number and severity of violations of FMCSA regulations.
If you receive a Conditional or Unsatisfactory rating, the first step in obtaining a Satisfactory rating is to understand the deficiencies and controls that were deemed inadequate or missing during your audit. Once your updated safety management plan is developed and you have implemented controls to ensure safety compliance, you will need to provide FMCSA with documentation that deficiencies have been rectified and an upgrade to a Satisfactory rating is an appropriate step for your company.
The FMCSA has a user-friendly guide and accompanying form, 385.17 Upgrade Request, outlining how to request an upgrade to your safety rating based on correction action, or visit Acuity's Motor Carrier Toolbox to learn more.  Source Acuity Insurance