How to Read a Car Insurance Declaration Page Quickly & Easily
If you're looking for a quick guide all about your insurance declaration page, you've come to the right place! Read on for the inside scoop on what your insurance declaration page is and how to read it.
What is an insurance declaration page or "dec" page?  
Your car insurance policy contains an "insurance declaration page," which may also be referred to as a dec page. You can think of it as an in-depth receipt. It summarizes what vehicle(s) your policy protects, the specific ways it protects them (coverages), to what dollar amount it will provide coverage (limits), the amount you need to pay (premium), discounts that may apply and how long your policy will be active (policy term). The insurance declaration page may not always be the first page you see, so look at the page headers carefully.
As you read through your insurance declaration page, you may run into some terms that are a little unfamiliar. So, we worked with the experts on our auto underwriting team to explain some of these unfamiliar terms.
Car insurance declaration page terms explained:
Effective date: This marks the date from which point on you have the coverages listed in your policy. Your coverage continues for a specified length of time, which is referred to as your policy term (more on that below). Your effective date may also reflect the date a change was applied to your policy in the middle of your policy's term. For example, if you add a vehicle to your policy, the effective date would reflect when that additional vehicle will also be covered by your policy (Figure A).
Policyholder since…: If you're an Auto-Owners policyholder, you will see the year you purchased your auto insurance policy with us toward the top of your declaration page. That's because we like to remember special things like that (Figure A).
Policy number: How your insurance company references your policy in their systems.
Policy term: How long your policy will provide coverage for your vehicle(s) (Figure B).
Important information about your policy section: This is where your insurance company may leave you a note to call out something about your policy they want you to know. Some messages that appear here may be required by the state you live in.
Premium: The total amount you need to pay for your policy. Depending on what payment plan you choose, you can pay this monthly, quarterly or semi-annually. Or, you can choose to pay it all at once, annually (Figure D).
Total policy premium if paid in full: The amount you pay for your policy, if you pay it all at once. This will be a smaller amount than the total policy premium, because when you pay your policy in full you may qualify for the Paid-in-Full discount (Figure D).
Discounts: An amount you may be able to save on your premium payment(s) if you qualify. For example, if you go paperless, you may qualify for our Green discount. 
Description of item insured: This is referring to what is protected in your policy. For example, the vehicles included on your auto policy will be listed as "insured property."
Item details: This is a list of information about your vehicle, how you use your vehicle and applicable discounts.
Insured/Named insured: This is the owner of the policy, the person that the policy covers.
Coverages: Your policy is made up of different coverages. Each one details specific ways your policy may protect you. You can find details about each coverage in your policy forms (Figure E).
This section of your insurance declaration page may also list the limits that apply to each coverage that your policy contains.
Limits: The most your insurance will pay toward a covered loss. Some coverages may list limits per person and per occurrence (Figure C).
Let's look at an example.
If your Bodily Injury coverage has limits of $100,000 per person/$300,000 per occurrence, it means that if more than one person is injured in an accident, your policy can pay up to $300,000 but no more than $100,000 for any one person.
The "per person" is the maximum amount that will be paid for one person's injuries. The "per occurrence" limit is the maximum amount that will be paid for a single claim.
So, if you get into an accident and one person is injured, the policy will pay up to $100,000 for that person. If you get into an accident and multiple people are injured, your policy will pay up to $100,000 per person but no more than $300,000 total. 
Rated driver list: Drivers protected by your car insurance policy.
How to read an auto insurance declaration page
The best way to dive into an auto insurance declaration page is with the mindset that you're reading a detailed receipt. Take it section by section and look through the terms we've defined for you. If you run into a question, reach out to your independent agent (they love talking about this stuff) or your insurance company.
Other helpful terms to know:
Insurance company issuing: The entity that funds and creates your policy. Depending on the company, you will likely work with their claims team when you need to file a claim. If you shop for your policies with an independent insurance agent, which we recommend, you're working with the agent to find the best insurance company and policy for you. You're not actually buying a product the agent created.
Billing account number: How your insurance company's billing services references your policy in their system. This is different than your policy number.
Independent insurance agent: A trained and licensed professional that tailors programs to meet their customers' specific needs. They can do this because they work with many insurance companies, rather than just one. They are locally based and operate out of their own local insurance agency.
Deductible: The portion of a covered claim that you pay. Your insurance company covers the rest, up to your policy's limits.
Depreciation: Reduction in value of an asset over time. For example, if you bought a car in 2022 for $18,500 and decide to sell it five years later, you will likely sell it for less than $18,500. That is because of depreciation.
Endorsements: Modifications to your policy that work with or add on to your policy's coverages.
When do I get my insurance declaration page?
You can expect to receive a copy of your insurance declaration page and forms when you:
Purchase a new policy
Renew an existing policy
Add new coverages and endorsements
Request a duplicate
Make changes (add a driver, remove a vehicle, etc.)
Depending on how you choose to receive your insurance policy documents, you will receive them either by mail or digitally. For Auto-Owners policyholders, you can access your policy online anytime, anywhere on our website or by downloading our app. You can also choose to receive them in the mail.
If you need to request another copy of your policy, reach out to your independent agent or insurance company.
 Is the declaration page the same as proof of insurance?
No, but lots of companies mail your proofs of insurance (insurance identification card) with your policy. You will receive an insurance identification card for each item included on your policy.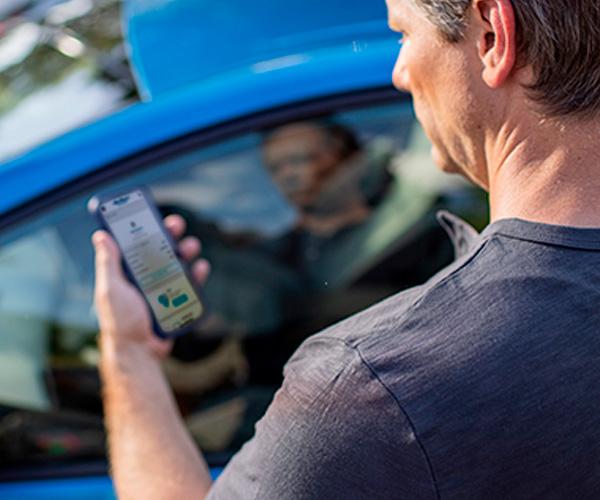 If you get pulled over, the police officer only needs to see your insurance identification card for proof of insurance, not your actual policy. Depending on the insurance company, you may have your proofs of insurance in the form of small, printed cards or digitally in an app.
For Auto-Owners policyholders, you can choose to have your proofs of insurance mailed to you or access them online. To sign up for online access to your policy and proofs of insurance, visit auto-owners.com and click Sign In. Or, you can download the Auto-Owners app. 
Is there a difference between an insurance binder and a declarations page?
Yes, an insurance binder is temporary coverage when you are buying a vehicle. Essentially, it is the insurance company's way of saying, "We plan to insure your vehicle, but we haven't drafted your policy yet." It is particularly helpful when you're buying a vehicle from a dealership, since they require insurance in order to drive it off their lot. An insurance binder will satisfy that requirement, so you can drive your new/used vehicle home. This is just one way we take a No Problem® approach to writing insurance. 
Do you feel like you just crammed for a vocabulary test?
We get it….
For more information or a quote, please contact Beck Insurance Agency in Whitehouse or Archbold, Ohio at 419-446-2777, email us at help@beckinsurance.com or click here for more information.