We know life insurance isn't an easy topic to discuss. And if you're reading this while trying to navigate the life insurance policy of a loved one who has passed away, you have our deepest sympathy.
To make things easier, we talked with our associates from our Auto-Owners Life Insurance Company to answer your FAQ surrounding how life insurance works. We hope it makes things a little easier for you.
How does life insurance work?
Essentially, you pay for a life insurance policy, and when you die, that policy will pay the designated individuals or organizations (beneficiaries) the dollar amount specified (the death benefit) within the provisions of your policy.
The death benefit, for a personal policy, is often used by surviving family members to help cover funeral expenses, pay off debts and help replace lost income. Depending on how the policy was set up, the funds may also help pay for a dependent's education and other legacy planning priorities specified in their trust.
Some important variables to consider when choosing a life insurance policy include:
How long you need to be insured
The amount of the death benefit
Whether or not the policy builds cash value
How long you are required to pay for the policy
Depending on your life stage, certain types of coverage may be more appealing to you. So, explore the options out there, which include three types of coverage:
Read more: Whole Life Insurance vs. Term: What You Need to Know
How does life insurance work upon death?
After the person that is insured under the life insurance policy dies, a family member, or designated administrator, needs to call in a claim to the insurance agent or insurance company. They will likely need a copy of the death certificate and the life insurance policy number.
Once the claim is submitted, the designated individuals or entities can generally expect to hear back from the insurance company within a day or so with further instruction.  Once the funds are distributed, they can use the money to cover funeral expenses, pay off debts, help replace income and other needs they may have.
If the deceased person wanted certain funds set aside for specific needs, they may have designated their trust as the beneficiary of their policy. In this situation, their trust will provide instructions on how the funds are to be used and you will need to refer to those documents to allocate the funds as specified.
Does life insurance actually pay?
Yes! Our life insurance associates are passionate about helping families during difficult times.
Of course, there are situations when a life insurance policy may not pay the beneficiaries, which may include, but are not limited to:
Death from suicide, if within the contestability period
 Material misrepresentations on the policy's application that affect eligibility or rates
(For example, if you say you don't have a chronic lung condition on the application but you're actually taking medication for asthma.)
Required premiums were not paid to keep the policy in force
The policy was through an employer's group plan and the person that is insured under the life insurance policy is not employed with that company at the time of their death
The person insured under the life insurance policy died while participating in illegal activities
Review the policy carefully for full payout limitations and conditions.
Read more: How Much Life Insurance Do I Need? [Free Calculator]
How long do you pay life insurance before it pays out?
Short answer: it depends on your policy.
Some life insurance policies allow you to choose how long you "pay in" to your policy. For our whole life insurance policies, we offer Ten Pay and Single Pay options, which allow you to pay a specified number of payments to pay the policy in full, quicker.
So, let's look at an example.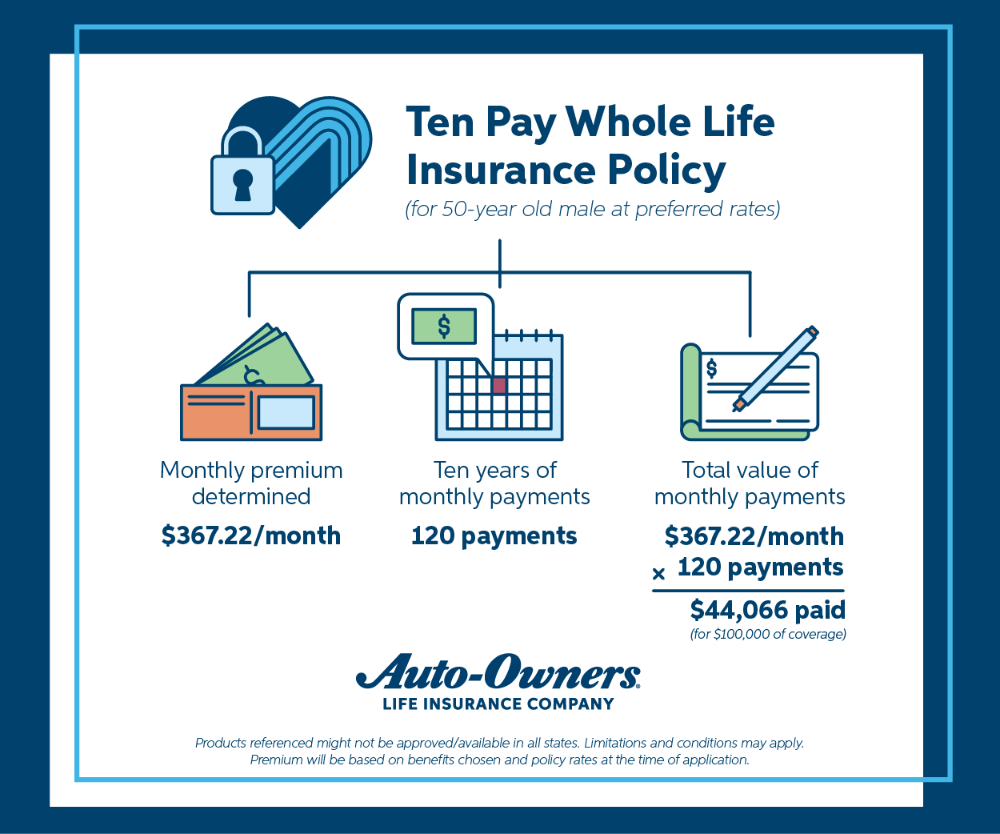 Jack just turned 50 and decided he needs a life insurance policy. He purchases an Auto-Owners $100,000 Ten Pay whole life policy at preferred rates, and has a monthly premium of about $367.22. *
Since he chose a Ten Pay policy, he will pay his monthly premium ($367.22) for 10 years. That equates to 120 payments (12 monthly payments x 10 years = 120 payments).
After he makes his monthly payments for 10 years, he's done and his policy is considered "paid up." This means he will have the $100,000 death benefit available for his beneficiaries upon his death (up to age 110) and will no longer be billed for it.
Term life insurance policies are similar in that you pay for the term your policy provides you coverage, which is typically 10, 20 or 30 years. These payments tend to be smaller than the Ten Pay and Single Pay options, since you are getting coverage for a shorter specified period of time and making payments on the policy for the entire term. Please note: If the person covered by the term life policy lives past the coverage period, the policy will not pay out the death benefit since it's past the term.
Can I cash in my life insurance before I die?
Certain life insurance policies build a cash value. Permanent life insurance policies, like our whole life and universal life insurance policies, offer this but term life insurance policies don't. As you make payments on your whole life or universal life insurance policy, part of your payment goes toward building your cash value. For whole life policies, your cash value builds at a guaranteed interest rate that is assigned when you purchase your policy.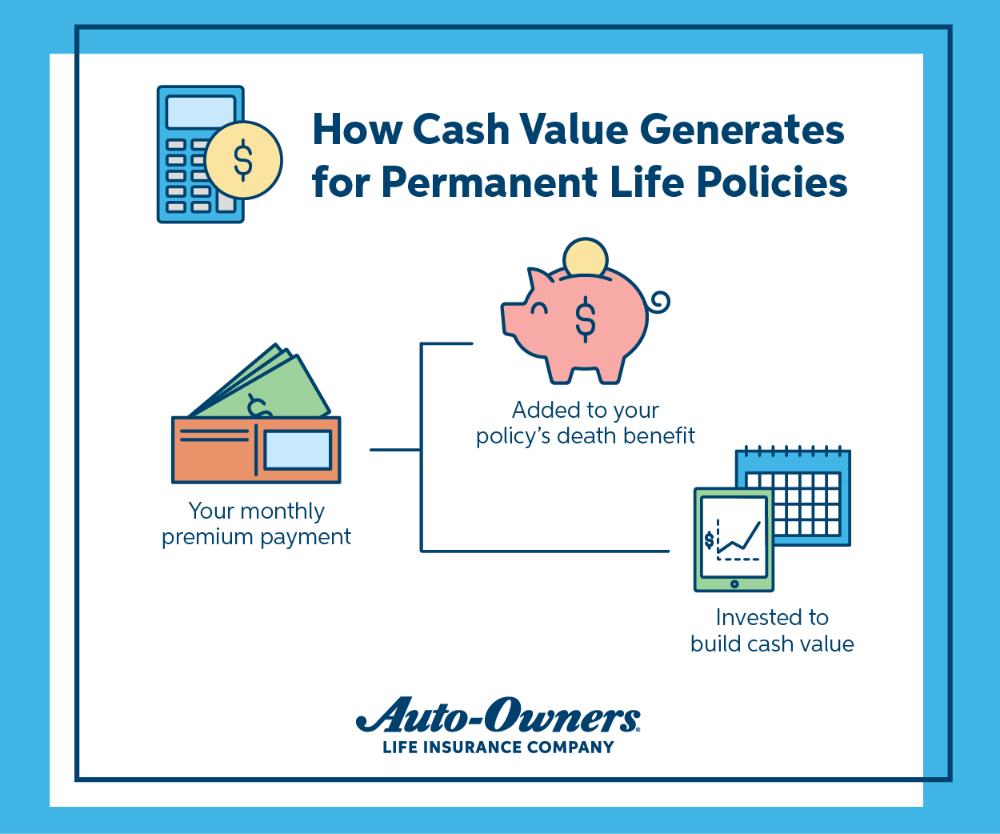 You can withdraw the cash value or take a loan against your policy's cash value to pay for college, a house, etc., while the policy is still in force. Both of these options will decrease the lump sum your beneficiary receives. With the loan option, you will be charged interest on the loan. Other charges may also apply when withdrawing policy cash value.
The cash value is really supposed to function as a legacy planning account, not a personal loan, but it can be used that way if needed.
Read more: Is Life Insurance Taxable? Here's What You Need to Know
Auto-Owners Whole Life policies and our Universal Life policies offer the ability to build cash value. Additionally, our universal life products, Perma Term® 2 and Perma Term® 3, offer you the ability to structure the policy as a permanent coverage or as a term!
Each of these products have their own eligibility requirements, coverages and rates, so talk to your agent about what may work best for you.
We are passionate about helping you provide for your family's future. We know it's not an easy topic to discuss, which is why we're here to help you navigate it. If you have questions about an existing life insurance policy or are interested in finding a policy, contact Beck Insurance Agency in Whitehouse or Archbold, Ohio.  Call Beck Insurance Agency at 419-446-2777, send an email to help@beckinsurance.com or submit your request here. 
Copyright Auto-Owners Insurance Company © 2022. All Rights Reserved.