The Fourth of July means fireworks across America and that can mean thousands of injuries and trips to hospital emergency wards.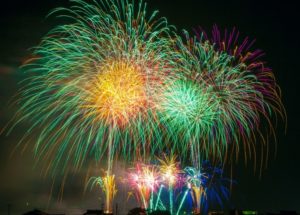 An estimated 7,600 of the total 11,000 fireworks-related injuries in 2016 were treated in hospital emergency departments during the period between June 18, 2016 and July 18, 2016, according to a report on 2016 by the Consumer Products Safety Commission and its National Electronic Injury Surveillance System.
CPSC Chairman Elliot F. Kaye held a press conference this week to bring attention to the dangers of fireworks especially for children and debut a video dramatizing the dangers of various popular fireworks including sprinklers and bottle rockets when they are misused.
"You have to keep fireworks, especially sparklers, away from kids," Kaye said. He said sparklers burn as hot as a blowtorch.
New York Giants professional football player Jason Pierre-Paul has filmed a public service announcement with CPSC in which he talks about the fireworks injury that blew off much of his hand in 2015. "Leave fireworks to the fireworks professionals," Pierre Paul says in the video.
Kaye noted that even a professional athlete like Pierre-Paul does not have the reflexes to avoid injury.
Deaths by Fireworks
In 2016, fireworks caused four deaths. CPSC reported that three of the four fatalities were related to reloadable aerial devices and one was associated with manufacturing homemade devices:
•On May 15, 2016, a 38-year-old male from Arizona was fatally injured in the garage of his single-family home while apparently attempting to manufacture fireworks. In the victim's home, investigators found a large quantity of fireworks and firework manufacturing components, which had been purchased on-line from an out-of-state supplier.
•On July 4, 2016, a 42-year-old male from Florida suffered fatal injuries when the fireworks device he was lighting malfunctioned. The victim was trying to set off large mortar-type fireworks in a PVC pipe that was anchored to the ground.
•A 27-year-old male from Georgia died shortly after the new year of 2016 from a fatal fireworks accident. According to the witnesses at the scene, the victim accidentally placed a firework in a tube upside-down and then lifted the tube above his head. The firework exploded from the bottom and struck the victim in the neck.
•On July 5, 2016, a 26-year-old male from Kansas fell off the roof of his home after a mortar type of fireworks device exploded in his hand near his chest. According to the witnesses, the victim was on his roof shooting firearms and the explosion knocked the victim backwards off the roof.
CPSC staff has reports of 114 fireworks-related deaths between 2001 and 2016, for an average of 7.1 deaths per year.
The people who sell fireworks, the American Pyrotechnics Association, report that while sales of fireworks in the U.S. rose from 29 million pounds in 1976 to over 268.4 million pounds in 2016, fireworks injuries have declined. The injury rate was almost 43 percent lower in 2016 compared to 2000, the group says. In 2016, the injury rate per 100,000 pound of fireworks consumed was 4.1. The APA credits industry safety education efforts and better quality products. The APA also says that over the past decade, injuries have gone down even as states and municipalities have relaxed their fireworks laws to permit more types of fireworks to be sold. There are only three states that still prohibit the sale of all consumer fireworks: Delaware, Massachusetts and New Jersey.
"Serious misuse of fireworks devices, as well as the use of illegal explosives, account for a large proportion of these fireworks-related injuries," says the APA, which adds that fireworks industry has stepped up its public safety education efforts.
The group also notes that fireworks are not the leading cause of consumer injuries; close to 20,000 people are injured every year by barbecue grills and more than 120,000 by baseballs.
Dangerous Duds
One of the dangers is that sometimes fireworks don't go off as expected.
Michelle Pantoya, a professor in the Department of Mechanical Engineering at Texas Tech University, has studied duds, that is fireworks that don't fire after they are lit, and says they can be dangerous.
There are many reasons a firework might fail; if it happens, she warns against relighting it.
"My suggestion is just not handle duds because you never know if there's still enough of an ember burning somewhere that you can't see that could ignite it when you're actually going to touch it," says Pantoya.
She also warns against using old fireworks. That's because most "off the shelf" fireworks are good for about a year.
She recommends having sand and water on hand if fireworks will be part Fourth of July family festivities.
"Even small embers, little sparks, are trajectories from some of these fireworks (and) could easily start even just a local fire in your backyard," said Pantoya.
Fireworks Facts
Of the injuries in 2016 that were linked to fireworks, CPSC reported these 10 facts:
•Of the fireworks-related injuries sustained, 61 percent were to males, and 39 percent were to females.
•Children younger than 15 years of age accounted for 31 percent of the estimated 2016 injuries.
•Thirty-nine percent of the estimated emergency department-treated, fireworks-related injuries were to individuals younger than 20 years of age.
•Young adults 20 to 24 years of age had the highest estimated rate of emergency department-treated, fireworks-related injuries (4.9 injuries per 100,000 people).
•Children younger than 5 years of age had the second highest estimated rate (4.4 injuries per 100,000 people).
•There were an estimated 900 emergency department-treated injuries associated with sparklers and 400 with bottle rockets.
•There were an estimated 1,300 emergency department-treated injuries associated with firecrackers. Of these, an estimated 47 percent were associated with small firecrackers, an estimated 4 percent with illegal firecrackers, and an estimated 49 percent with firecrackers for which there was no specific information.
•The parts of the body most often injured were hands and fingers (an estimated 33 percent); head, face, and ears (an estimated 20 percent); legs (an estimated 18 percent); eyes (an estimated 9 percent); and arms (an estimated 8 percent).
•Sixty-nine percent of the emergency department-treated injuries were burns. Burns were the most common injury to all parts of the body, except the eyes, where contusions, lacerations, and foreign bodies in the eyes occurred more frequently.
•Approximately 92 percent of the victims were treated at the hospital emergency department and then released. An estimated 7 percent of patients were treated and transferred to another hospital or admitted to the hospital.
CREDIT:  Andrew G. Simpson, Insurance Journal
http://www.insurancejournal.com/news/national/2017/06/30/456213.htm#