DOT audits are still on the rise and the fines have been increasing.
The average federal DOT fine after settlement for 2022 was $7,100 and the government collected about $25.7 million in fines in 2022. Some audits are done without any notice. Be sure to keep up all your driver and vehicle records in the event of an audit.
Here are some fines that may be issued to carriers and drivers:
Out-of-service order: Failure to return written certification of correction – $975

Out-of-service order: Requiring or permitting operation of CMV by a driver – $19,505

Recordkeeping: Maximum penalty per day is $1,496

Knowing falsification of records – $14,960

Non-recordkeeping violations – $18,170

Violations of Hazardous Materials Regulations and Safety Permitting Regulations (transportation or shipment of hazmat) – $96.624

Out-of-service order: Failure to return written certification of correction – $1,116

Driver medical certificates will be transferred to the state that issued the driver's CDL electronically by the medical examiner. Carriers will not have to check the medical examiners on the National Registry anymore. Driving records (MVRs) will be the only thing required to prove the driver is certified. Carriers have to obtain the driver's MVR after the medical exam is completed to verify the medical certificate is on the MVR or the driver will not be qualified to drive. Non-CDL drivers must still have paper medical cards. Note there may be another extension on this medical card change.
U.S. DEPARTMENT OF TRANSPORTATION – USDOT
All companies that transport motor vehicles or equipment with oil and/or fuel in them will need to be reclassified as hazardous material carriers with the USDOT. These carriers must have their minimum insurance requirement raised to $1,000,000 and for-hire carriers must have their insurance filed with the FMCSA at that level. Motor vehicles contain gas, oil, fluids, and antifreeze which are classified as hazardous by the federal government. The reclassification for this type of operation does not require a CDL hazmat endorsement for the driver. For additional details contact our office.
The Motor Carrier Identification Report (MCS-150) must be filed by all carriers every two years. The USDOT will be sending out the forms under the following formula: If the carrier's USDOT number's second to the last digit is odd, the form is to be filed on the odd number of years. The last digit will define what month the form is to be filed in. The filings are due the first 10 months, 1 being January and 0 being October.
A carrier with a USDOT number ending in 10 will be required to have their report filed by October 31, 2021. Carriers from the states that are in the PRISM program will be required to update the USDOT annually. CSA information must be kept current for your monthly CSA scores to be accurate. MCS-150 should be updated if there are any changes in your number of drivers or trucks, we recommend that it be updated annually. Please send us your USDOT update letter when you receive it.
The federal hazmat registration fee for transporting hazardous materials will remain the same for the 2023-2024 year starting July 1st for all carriers, brokers, and producers. The registration fee is $275 for "small" businesses for each type of registration. Any business deemed "large" will pay $2,600. "Small" long haul carriers (defined by the SBA – Small Business Administration) are those with annual revenues of less than $30 million (NAICS Codes 484110 to 484230). All companies must supply their North American Industry Classifications System code that represents their significant business activity.
Companies that transport hazardous freight, arrange for the transportation of hazardous freight brokers, or shippers of hazardous freight that requires placarding are required to register. Contact our office to apply for or renew your federal hazmat license. Renewal and new registration forms are not being mailed out any longer.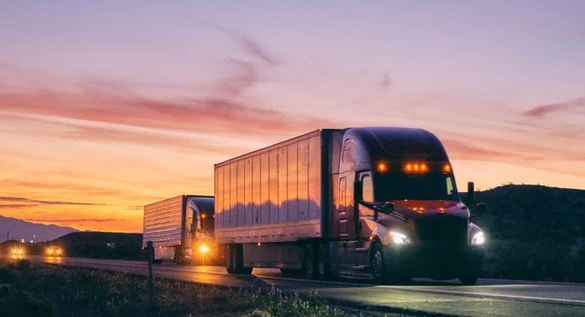 INTERNAL REVENUE SERVICE
The IRS is no longer mailing out HVUT (Form 2290) Heavy Vehicle Use Tax forms to taxpayers. The IRS took this step due to continued growth in electronic filing and to reduce costs. Carriers should be aware that they still must file, even though they no longer receive the form in the mail.
The HVUT must be paid by the owner of any vehicles that are purchased during the year. Payment is due for the remaining part of the tax year ending June 30th. You may no longer use a stamped copy of the tax return from the previous owner as proof of payment. Each vehicle owner must pay their tax. Upon selling a unit, the previous owner may apply for a credit for the unused portion of the tax and apply it to any new vehicle or apply for a refund after the tax year ends.
The tax return for July 1, 2023 – June 30, 2024, must be filed and paid by August 31, 2023. We are filing all HVUT 2290 returns electronically.
OHIO
Carriers with Ohio Intrastate Authority may have to renew their authority annually depending on their UCR filing. The state of Ohio still issues intrastate authority and requires that the proper insurance remains on file. The authority expires on June 30th of each year. There is a grace period until July 15th of each year.
PUCO Tax Receipts are issued for all vehicles regardless of the type of vehicle, the number of axles, or the weight of the vehicle that operates intrastate. The PUCO Tax Receipts are $30 for tractors, buses, and tow trucks and $20 for any two-axle vehicles, straight trucks, cars, vans, or pickups. Carriers that paid for their intrastate vehicles under the UCR will not be required to file and pay for the 2023-2024 PUCO receipts.
All carriers that operate Ohio intrastate only or transport household goods must renew their Ohio intrastate authority. Every carrier with PUCO authority should check their standing with the state to ensure their authority is not canceled.
Any carrier who wishes to operate intrastate in Ohio and does not have the authority, please call

Humphrey Transportation Compliance

at 419-865-0067.  Contact Humphrey Transportation Compliance, LLC if you have any transportation questions or if you need any assistance.
*************
We hope you find this information from Humphreys useful.  Should you have any insurance questions, please contact Beck Insurance Agency in Archbold or Whitehouse, Ohio today.  Call 419-446-2777, email us at help@beckinsurance.com or click here to submit your request.