Closing The Gaps: Contractors Errors and Omissions
BY PEKIN INSURANCE · FEB 1, 2022 ·1 MIN READ
Listen, we know  contractors are masters at their trade. You're an expert and your business is built on knowledge, experience, and integrity. Do you really need Contractors Errors and Omissions Insurance? Well, it depends on how much you can afford to lose.
Contractors Errors and Omissions Insurance, often referred to as E&O, provides coverage for faulty work or defective products that are a result of a negligent act, error, or omission on your part or from a defect in material or a product sold or installed by you while acting in a business capacity. Without it, you can leave yourself open to potentially devastating lawsuits.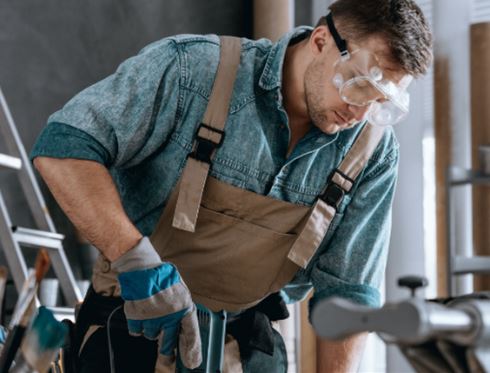 Contractors E&O vs General Liability
You may think that your basic Commercial General Liability Insurance policy is enough. After all, that policy should cover you for things you can be held liable for, and while you're right about that, there are exclusions with General Liability policies. Contractors E&O steps in and fills certain gaps in coverage that could leave you high and dry if you aren't careful.
Examples are the best way to explain where those gaps in coverage may be and how Contractors E&O fills them.
The Cabinet Fiasco
You install brand new cabinets in your client's kitchen in their home. You finish up your work and your clients are so pleased with the look of their new space. You head off on your way, only to get a call hours later that the cabinets have come crashing down, breaking into pieces. Under your traditional Commercial General Liability policy, this would be excluded as "your work." However, if you have Contractors E&O, it will respond and pay to fix those cabinets that have been installed incorrectly.
The Flooring Conundrum
You've been contracted to install brand new flooring in your client's home. While halfway through the process of laying the floor, you begin to realize the subfloor is too thick and the flooring you are laying on top is now interfering with the doors being able to open and close. Someone has made an error in their calculations, all of your hard work is going to have to be scrapped, and you'll need to start over. Once again, this would be excluded as "your work" in a Commercial General Liability policy. Contractors E&O would be a saving grace.
The Collapse
You've been hired to renovate an investment property to later be rented out.  During the process you find that the foundation needs serious work, but you've done this kind of work before.  You crib up the house and remove the old foundation.  The next morning, you receive a call from the property owner.  Overnight, the cribbing failed and the house is a total loss.  Your policy excludes "your work", and you are now 100% responsible for an entire house because you didn't carry Contractors E&O coverage.
We know you're an expert at your trade, but all it takes is one serious error to take a whole business under. Help protect your livelihood by choosing Contractors E&O insurance, and remember – cheaper doesn't mean better.  
For questions or quotes on your contracting business contact Beck Insurance Agency in Archbold or Whitehouse, Ohio.  Call 419-446-2777, email us at help@beckinsurance.com, or click here to submit your inquiry.  

Beck Insurance Agency is a full service, independent insurance agency serving Archbold, Whitehouse, Wauseon, Delta, Swanton, Napoleon, Defiance, Waterville, Monclova, Liberty Center, Holland, and all over Ohio and the Tri-State area.