"I have $100,000 in a CD and it's coming up for renewal next month. Should I renew?"
– John, 70 year healthy old male
Well John, it depends on how liquid you want to keep your money. If this is "never money", meaning you intend to pass this money onto your heirs instead of spending it I would place it into a single premium whole life policy.
The illustration below shows that a single premium whole life policy for a 70 year old male, a $100,000 lump sum premium could get you in the neighborhood of $160,000 in tax free death benefit to be paid directly to your designated beneficiaries. See below: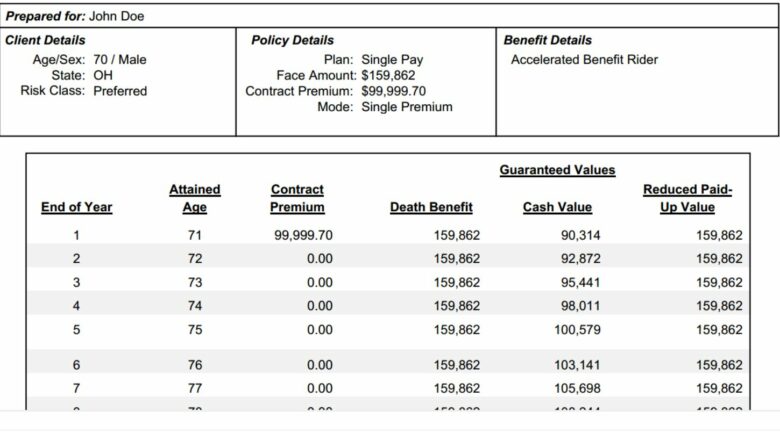 A quick Google search for "Best CD Rates for September 2021" indicates that you could get 0.70% interest through Credit One Bank with a one year CD. However, I know of several fixed annuities that one could get 1.5%, so to be fair let's just use that rate of return for the coming comparison.
To compare your "return" between a CD (in this case an Annuity) and the Single Premium Whole Life, if you instead kept of placed this $100,000 into an instrument paying a guaranteed 1.5%, it would take 32 years of earning interest for the balance to build to $159,862. Why not instead, utilize a whole life policy and achieve that kind of value day one?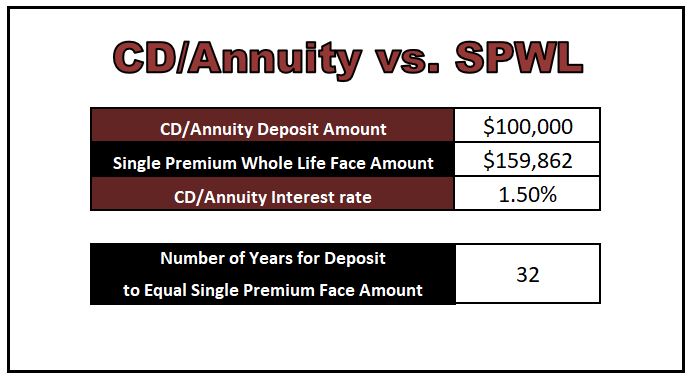 To learn more about single premium whole life insurance options and maximizing and preserving your estate, call Joseph Beck at Beck Insurance Agency. Call 419-446-2777, email help@beckinsurance.com, or click here to submit your inquiry.
Beck Insurance Agency is a full service, independent insurance agency offering personal insurance such as home, auto, umbrella, recreational vehicles, life insurance, Medicare insurance, long term care insurance, business insurance, farm, as well as insurance for public entities.