Trust the experts, your local independent insurance agents.
You look for insurance once, then you're bombarded with digital ads everywhere you go online. These marketing messages promise a quick purchase and a rock-bottom price.
When you start your search with an independent insurance agent, you connect with an expert, an advocate, and a great general resource.
Discover the 5 reasons why you should work with an independent agent instead of buying online.
Here are 5 reasons to choose an independent insurance agent instead of buying online.

1. Agents Ask the Right Questions
---
An online insurance provider doesn't always consider your financial needs or life situation.
Here are some examples:
A college graduate with $100,000 of student loan debt won't need the same life insurance policy as a recent retiree who's finalizing her estate plan.
The little local coffee shop should have different business coverage than the huge car dealership down the road.
A five-bedroom house shouldn't be insured the same as a one-bedroom starter home.
You could be single, married, caring for your parents, or looking after disabled family members. These factors determine what coverage you need.
Your independent agent will ask you the right questions and deliver personalized service
2. Agents Offer One-Stop Shopping
---
Independent agencies offer a wide variety of coverages, including:
Auto
Business
Financial products
Home
Life
Renters
If you run a business, some agencies will offer employee benefits like term life, accident insurance, and short-term disability for your employees.
The point is, an independent agent will help you with almost any coverage need you can think of.
3. Agents Value-Hunt for You
---
Independent agents represent multiple insurance carriers. They value-hunt policies for you to find the right coverage at the right price. They know all about the carriers' discounts and will find them for you.
4. Agents Are Licensed
---
We'll admit it: insurance policies aren't always easy to read. Adding to that, coverages vary from one state to another and from one company to another.
That's why agents have to take an exam to earn an insurance license. This gives them the knowledge they need to interpret your policies and help you understand them.
5. Agents Are Local Businesspeople
---
You support a local business when you purchase a policy from an independent agency. Don't be surprised to find an insurance agent on your city's Chamber of Commerce.
Many independent agents take pride in community involvement, whether they donate to charities, coach Little League teams, or attend school board meetings.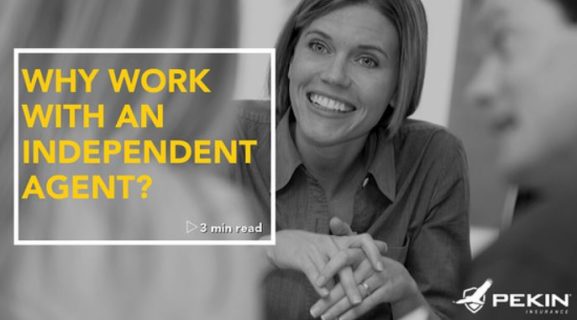 The Downside of Online Insurance

---
The online purchase process gives you convenience and low prices up front. Saving money now doesn't mean you'll save money later if you don't have enough coverage.
Take a moment to think about these examples:
State-minimum car insurance probably won't cover property damage costs and medical bills if you cause a major accident.
A small life insurance policy doesn't account for student loan debt, car payments, mortgages, and living expenses.
A homeowners policy without a replacement cost enhancement could put you in a bad place if a fire or natural disaster leaves your home as a total loss.
It's not all about money, though. You take on risks you might not know about when you don't have an expert to review the policy with you.
Contact Beck Insurance Agency here or call 4219-446-2777 today.