Parenting is a challenging but rewarding journey for just about anyone who embarks on the adventure. And the journey can be even more challenging when you are a single parent. This is especially true when it comes to making financial decisions.
Single parents often have unique questions when it comes to life insurance. Let's look at some of the most common questions advisors hear from single parents.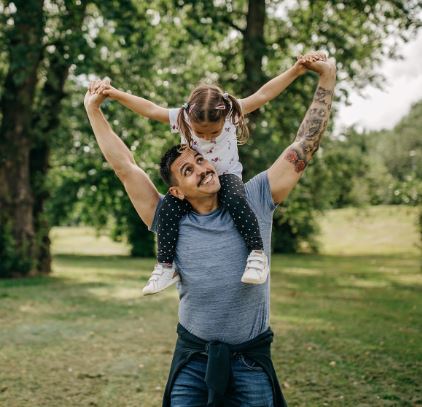 1. Why do you need life insurance as a single parent?
While insurance is beneficial for all households, single-parent households need to strongly consider life insurance as part of their financial strategy.
It might sound obvious, but it is very important for single parents to acknowledge the absence of a backup parent. Unlike in a two-parent household, if the single parent dies, there may be no clear next choice as to who will help pay the bills or care for the children. Life insurance can provide a financial safety net that might not otherwise be there to help facilitate answering some hard questions.
Despite the importance of life insurance, single-parent households are less likely to have life insurance. One study found that 69% of single parents with kids still living at home had no life insurance in place. You can compare this to the 45% of double-parent households that do not have active life insurance. If you are a single parent, it is time to make a plan to make sure you know that your family is correctly covered.
2. What things can life insurance help cover?
Life insurance can help you pay for the expenses that will continue for your children and dependents after you die. These expenses can include house payments (rent or mortgage), debt, current and future education needs, end-of-life costs, child living expenses, childcare, etc.
Life insurance is an amount of money you can pass on to your loved ones to help them keep living their lives, and it's generally tax-free. If you want to read more, visit this article with more details on what life insurance can cover.
3. How much life insurance should you have as a single parent?
Considering your lifestyle, obligations and children's future care and education is the first step in determining how much life insurance you need as a single parent. In addition to the items we discussed in the previous question on what life insurance can cover, add in any of your family's unique or personal financial needs.
Next, to help you further determine your needs, we suggest using a life insurance calculator like this one. By answering a few important questions, you can get a ballpark idea of the amount of cash it would take to provide for your family if you passed.
Finally, you will want to talk to a life insurance agent to help you find the best policy and price for your needs.
4. How do you choose a life insurance beneficiary when you're a single parent?
Emergency and end-of-life planning is a necessity for all single parents. It is important for your friends and family to know what happens to your dependents in the event of your death. So, even though the conversation is not a fun one, you will need to add life insurance to your end-of-life plan discussions.
Typically, a parent would name their spouse or the other parent of their child(ren) as the beneficiary (person who gets the death benefit cash payout). However, if there is no other parent in the picture, then you will need to first decide who is taking care of your children if you pass.
Then secondly, is that the same person you will trust to receive the money to care for your dependents? They do not have to be the same person. If you have a trusted person or professional who you want to manage your dependents' estate, that person can be separate from the primary caregiver. You will have to think about how you want your children financially cared for without you. We suggest talking with your family and any trusted financial or estate planners to solidify your plan.
Whatever you do, don't name your child as the beneficiary—the law prohibits anyone from receiving a life insurance payout if they aren't the age of majority (which could be 18 or 21 depending on your state). For more information about naming beneficiaries, click here.
5. What type of life insurance should a single parent have?
The world of life insurance is wide and varied these days, but here are a few standard options to get you started on finding the policy that is best for you as a single parent.
Term Life Insurance
If funds are limited or cash flow is tight, as it often can be for a single parent, then term insurance is a great option. Term insurance offers a cash payout to your beneficiaries if you die during the term. In exchange for the death benefit, you pay a monthly premium to keep the policy active. With a term policy, if you stop paying the premium, the policy will end and the benefit goes away. It is temporary coverage for as long as you need it or can afford to pay it. 
A single parent can typically find a premium payment on a term policy in a budget they can afford. Also note that with any insurance policy, you have to pass underwriting to be issued the policy and have your price determined.
Permanent Life Insurance
Next, there are permanent life insurance policies. These often come with a higher cost per month premium for a similar death benefit as a term policy of the same size. However, a permanent insurance policy will accumulate cash value in addition to the death benefit.
The cash value inside the policy can be used or borrowed against after a certain amount of time. When you borrow money from a permanent insurance policy, you're using the cash value as collateral and the borrowing rates tend to be relatively low.
If the idea of a more permanent policy sounds appealing, but you are worried about having the cash on hand to pay the premiums every month, then a universal life insurance policy might be more your style.
As a single parent with one income, flexibility is key. With a universal life policy, you can make more flexible payment amounts on the policy as needed. If you are considering a universal policy, it's a good idea to work with an insurance agent to make sure you set up a policy that is best for your needs and situation.
Conclusions
Single parents have a challenging job, but having the safety net of life insurance in place for your children can alleviate some of the stress. If you haven't already, call Beck Insurance Agency in Archbold or Whitehouse, Ohio to help you get started on securing your peace of mind.  Call 419-446-2777, send an email to help@beckinsurance.com, or click here to submit your request.