With so many apps available to the trucking industry, choosing the right app can be somewhat confusing, and it can be difficult to know where to start. So, why would you want to use an app? Simply put, mobile apps extend the reach and productivity of your time and business.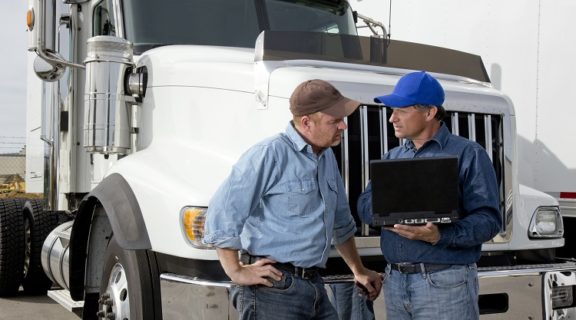 By equipping your smartphone, tablet, or laptop with apps, it can perform a wide variety of business functions for you while out of the office, traveling, at a shipper, talking to brokers, or determining your best route of travel. A mobile app usually enables the user to do something specific, like accessing their bank account or tracking hours of service (HOS) using an ELD app. But most importantly, apps can help truckers enhance three important areas: time, money, and safety. In short, apps can have a positive impact on your business's bottom line.
In this article, we focus on 15 free trucking apps that may be helpful to your operation.
1. oCFR
The U.S. DOT Pipeline and Hazardous Materials Safety Administration (PHMSA) made available their online Code of Federal Regulations (oCFR) mobile app, which provides quick access to both its hazardous materials and safety pipeline safety regulations.
2. Drive Axle
Drive Axle is an app that allows you to scan and send documents through your smartphone, tablet, or laptop. It allows both drivers and motor carriers to document work completed more efficiently and invoice quicker.
3. Truckstop Mobile or DAT
The Truckstop and DAT apps are both fast and effective ways to find loads. Post your truck or choose from thousands of loads posted daily.
4. Dock411
Interested in knowing the details about a pickup or delivery location? For example, do they have restrooms available to drivers, are they pet friendly, what is the average time to load or unload, or do they allow overnight parking? The app is populated with information reported by other drivers.
5. Trucker Path
Trucker Path provides useful information, including truck stop locations, fuel prices, parking availability, and weigh station locations.
6. Drivewyze PreClear
Drivewyze is a trucker app that, depending upon your CSA score, allows you to bypass more than 700 weigh station locations.
7. Weigh My Truck CAT Scale
This app provides truckers the opportunity to weigh their truck, pay for the transaction, and have their axle group and gross weights displayed on their smartphone and emailed.
8. BigRoad Trucking Logbook
BigRoad is an electronic logging device app and electronic logbook. It tracks hours of service and can help you maintain compliance with the ELD mandate.
9. Lose It! Calorie Counter
The LoseIt! app can help you control your weight by setting calorie intake goals and tracking your meals, exercise, and nutrition.
10. Weather Channel
Weather is something every motor carrier and truck driver must plan for. This app will help ensure you won't be caught off guard by weather.
11. Waze
Waze is a GPS app used by many in the transportation industry. It provides a lot of roadway information, but it does not provide low clearance, road weight restrictions, or other trucking-specific information.
12. Vigillo
Exclusive for Vigillo Scorecard subscribers, Vigillo's CSA Daylight mobile app provides CSA BASICs as a bar chart. It aggregates your BASIC percentiles, including HOS, Driver Fitness, Controlled Substances, Crash, Vehicle Maintenance, Unsafe Driving, and Hazardous Materials.
13. Trucker's Slide Calculator
This app is able to calculate how much each axle is over or under, including the gross, and provide suggestions on where to slide axles or move weight to become legal.
14. Audiobooks.com
The Audiobooks.com app has over 125,000 offerings with more than 8,000 free titles. One nice feature is that the books can be downloaded so they can be listened to when Wi-Fi is not available.
15. 511
511 apps are available through many states. They are the official mobile apps travelers can use to find information for the state's Department of Transportation. 511 apps can provide current traffic, winter road conditions, road closures, and many have freeway camera images available. Just enter a state's two letter abbreviation followed by 511 (e.g., WI511) in your app store.
Content courtesy of Acuity.